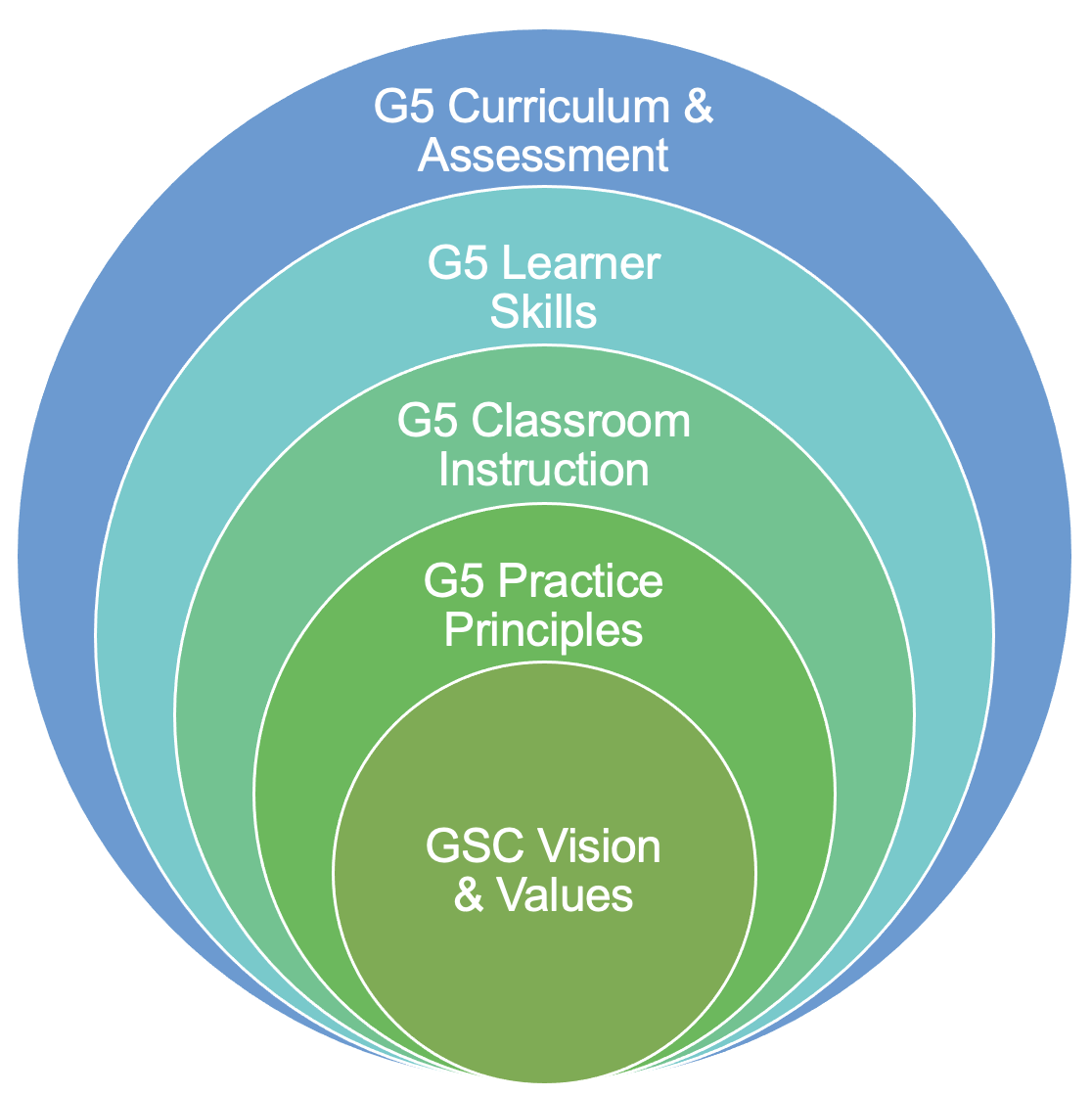 All teaching and learning at our GSC is informed by an Instructional Framework which is underpinned by our College Vision and Values. The focus is on providing students with a clear learning objective and strategies to measure this at the end of the lesson.
This model is also supported by the G5 Practice Principles., G5 Classroom Instructional Model, G5 Learner Skills and the G5 Curriculum and Assessment Model.
At Greenvale Secondary College we recognise that being good at securing high standards in literacy and numeracy alone doesn't guarantee high performance across a broad, rich curriculum.
As a result, we use Learner Profiles to support the development of the whole student with a belief that for a learner to be well educated they need to demonstrate knowledge, thinking skills, leadership and ethics. This ensures we can deliver on these 2 main goals for every learner:
To Ensure Academic Success
To Foster Identify Development
Pedagogy
Practice Principles
These GSC practice principles underpin our whole school practice and inform all of the work we do in improving student learning outcomes.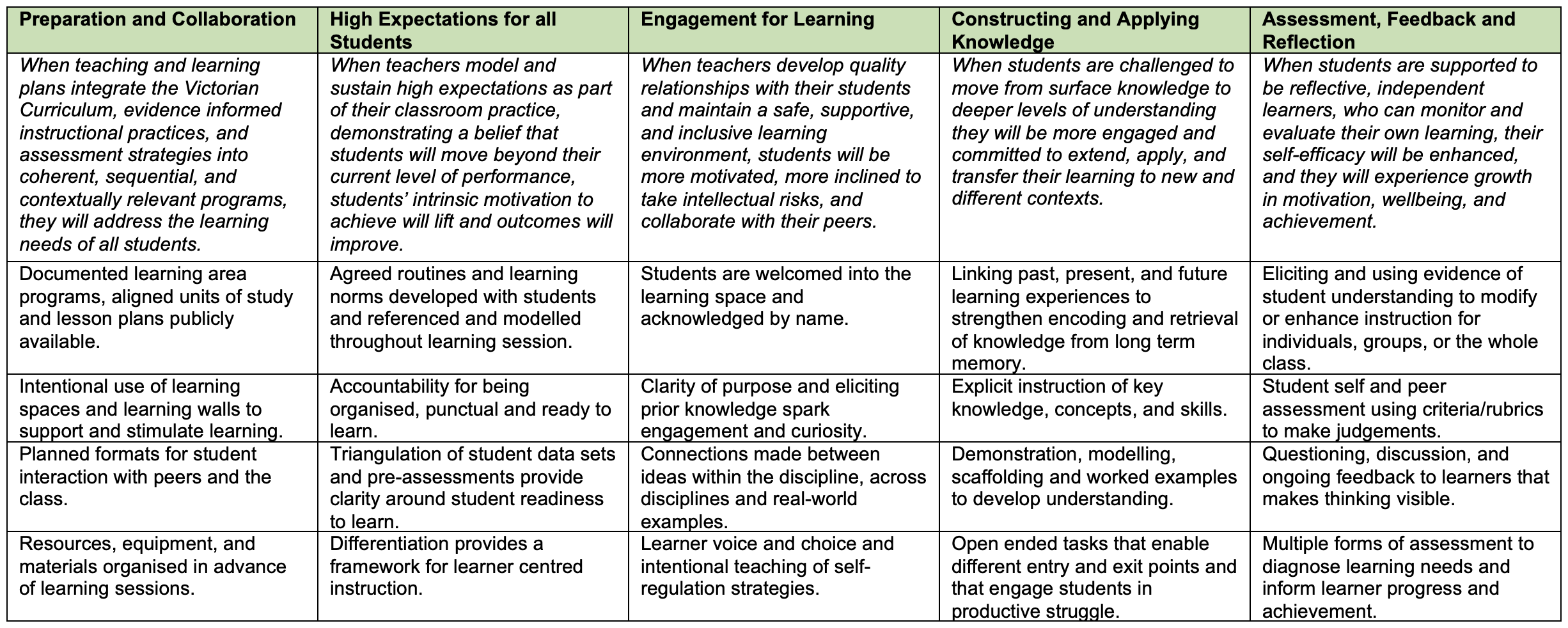 Classroom Instructional Model
The G5 Classroom Instruction model is used to consistently structure lessons for students supporting their confidence and growth. There is a student facing model and a teacher facing model so that learning is transparent, predictable and meaningful.
| | Phase of Learning | Role of Teacher |
| --- | --- | --- |
| L | Establish Purpose for Learning | Learning Intention and Success Criteria introduced to students and unpacked, including language for learning and lesson structure. Agreed expectations revisited or reinforced. |
| E | Engage and Elicit Prior Knowledge | Initial activity designed to stimulate curiosity, gain full attention. Activation of prior knowledge to link new knowledge with previous learning. Examples of student work provided to demonstrate standard. Use a range of questioning strategies to promote thinking. |
| A | Attend to new Knowledge | Explicit teaching of concepts/skills/knowledge using multiple representations and modalities. Identification of connections between learning intentions and learning activities. Opportunities for students to work individually, in pairs, groups or whole class for discussion. |
| R | Reinforce, Deepen and Apply Learning | Provision of structured tasks to enable students to practice and apply their learning to familiar/unfamiliar contexts. Pacing of lesson provides time for student to engage with concepts and consolidate their understanding. Provision of tasks that support transfer of learning. |
| N | Reflection, Feedback and Next Steps | Provision of ongoing feedback to support student learning. Students engage in self/peer assessment. Structured time for reflection against success criteria. Signpost future learning to link this lesson to the next one. Behaviours demonstrated throughout lesson acknowledged. |
| | Phase of Learning | Guiding Questions for Students |
| --- | --- | --- |
| L | Establish Purpose for Learning | How do I know what I am learning this lesson? What do I have to do to put the goal in my own words? What will I do to achieve this goal? How do I know how and when the goal will be achieved? |
| E | Engage and Elicit Prior Knowledge | What do I already know about this topic? What can I do to help me understand the worked example? What is the relationship between the new and previous ideas? How can I relate these ideas to my own life and experience? |
| A | Attend to new Knowledge | How well do I understand the new knowledge? How can I organise my time week? How can I check if I need clarification? How can I tell if the work is at the right level for me? How can I further extend my learning? |
| R | Reinforce, Deepen and Apply Learning | How well did I contribute in class today? How do I know if I have achieved my learning goal? What is the significance of what I have achieved this lesson? Do I understand what I have to do next to improve my learning? Did I support my peers learning today? |
| N | Reflection, Feedback and Next Steps | Can I see the relationship between todays learning and what we are going to do next lesson? Have I been able to express my feedback in a constructive way? Did my participating today reflect our shared expectations? |