Academic Enhancement Program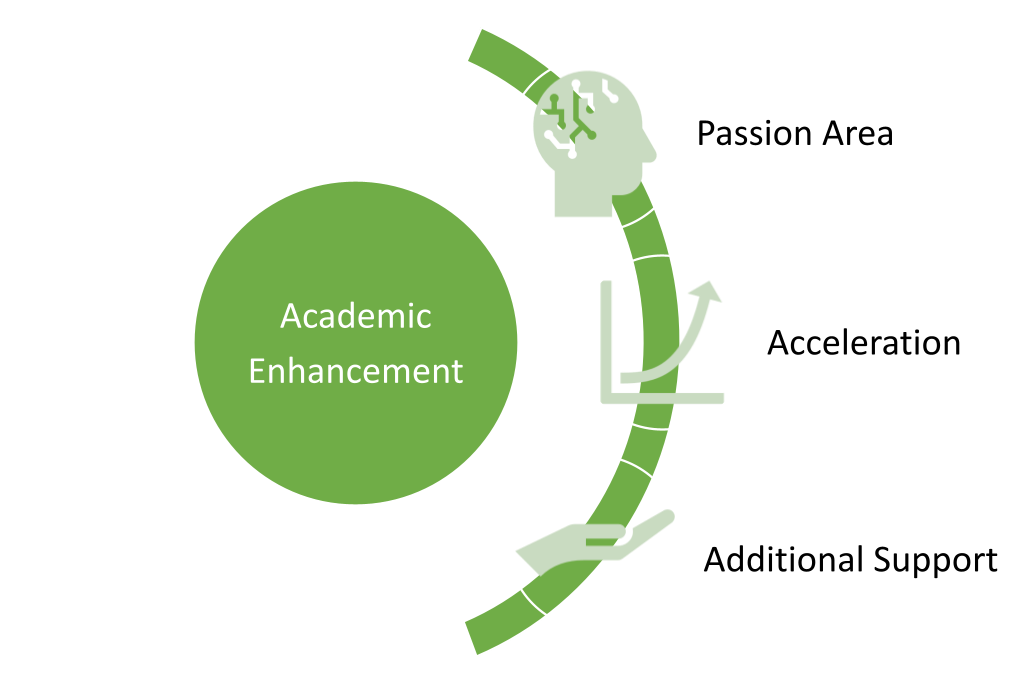 Catering for High Potential Learners
All students at Greenvale are provided opportunities to optimise their learning potential. High potential learners are ensured academic rigor and appropriate social and emotional care through support from a College-wide High Ability Leader and Sub School Learning Progress Leaders who support teachers in nurturing academic development through personalised learning provisions in the forms of extension, enrichment, and acceleration to complement the curriculum, utilising an integrated and inclusive approach to learning.
Differentiation
All Greenvale students have access to extension through a differentiated curriculum as part of their regular learning program. A differentiated curriculum is a program of learning that offers a variety of entry points for students who differ in learning ability. In a differentiated curriculum, teachers offer different approaches to what students learn (content), how students learn (process) and how students demonstrate what they have learnt (product)
Accelerated Learning
Students in Year 9 and Senior School, where appropriate, have access to accelerated learning in specific subject areas. At the end of the year, selected Year 8 students are invited to enrol in the Years 9 -12 Accelerated Mathematics Program. Students in Senior School have the opportunity to study some Unit 1 and 2 VCE programs whilst in Year10 and some Unit 3 and 4 programs in Year 11. Acceleration into VCE program is subject to criteria based on Year 9 performance.
Academic Enhancements
Greenvale Secondary College offers a number of academic enhancement programs for our students. At Greenvale, we provide opportunities for students to do things that reflect their passion or interest. This ensures students take leadership of their learning and promotes more rapid learning growth. 
These academic enhancements ensure students in need of support receive it and those who need extension are challenged. These programs then ensure that all leaners at Greenvale experience learner growth.
Our enhancement sessions:
Are student-needs driven and student led where appropriate;

Enable experimentation and exploration of skills, ideas and concepts;
Cater for diversity in interests and passions;
Support students to build self-confidence;
Strengthen relationships across the cohort.
Our enhancement sessions include:

Science
Technology
Maths
Visual Art
Performing Art
English
Humanities
Health and PE
In years 7 and 8, all students are timetabled into three enhancement sessions per week
Further to the Academic Enhancements offered at Greenvale Secondary College, our students also have access to the Victorian High-Ability Program and the Victorian Challenge and Enrichment Series.
These programs provide high-ability students the opportunity to engage in online and in-person sessions that occur during and after school hours. They have a focus on extending and developing students Mathematic and English capabilities. 
For these programs students are nominated by the College High Ability Leader after meeting with a parent or guardian.
Process for Selection of Enhancement Sessions
At the commencement of each semester, students are provided the Enhancement Program schedule (similar to the example above). Using the online selection tool, students complete their preferences for the semester (each enhancement is term long).
The preferences made are then reviewed against the most current data for that student as well as viewing their Learner Profile to consider their academic and social needs.