PRINCIPALS REPORT

Welcome to the very first newsletter for Greenvale Secondary College. As the proud Principal of our new school, it is exciting to be able to share with you many of the great things happening in our school. The first 6 months of our first year have gone very quickly, but it has been rewarding to see so how proud our students and parents are of our school. 
Our students have been exceptional, demonstrating not only high levels of learning growth, but also their level of engagement and connection to our school shows that they are willing and ready to be the leaders in our school and the community. 
Term 1 saw many of our "firsts" including Welcome BBQs for our new families, official openings, parent teacher-student conferences, year 7 sleepover, ANZAC day assemblies, and not to forget – student success both inside and outside the classroom. 
MUSIC PROGRAM 
Our College Music Program continues to go from strength to strength as we not only have a long waitlist on instrumental music lessons and were delighted to announce that Greenvale Secondary College is the recipient of the Yamaha Music Australia 2022 Great Start Grant! This grant is provided to 1 school in Australia that demonstrates excellence and ability to implement a high-quality music and performing arts program. 
ENHANCEMENT PROGRAM 
Greenvale Secondary College offers a number of academic enhancement programs for our students. At Greenvale, we provide opportunities for students to do things that reflect their passion or interest. This ensures students take leadership of their learning and promotes more rapid learning growth. It has been fabulous to see our Enhancement program commencing with all students being supported to achieve high levels of learning growth. 
TERM 1 PARENT SURVEY 
Over the Term 1 break we ran a parent survey which was aimed to collect some feedback from families regarding our progress to establishing a successful school. Over 80% parents said their child was supported to adjust to new year level – starting high school – and that their child feels safe at school (85%) which is fundamental for learning. 
It's great to see almost 100% parents report teachers convey high expectations of our students – 96%. Having high expectations of students is important because it conveys confidence that students have the ability to learn and grow.  Parents also see that teachers role model what positive behaviour looks like (88%), which is important not only in conveying respect for students, a core school value, but also guiding students in how to behave with other people. Linked to this are opportunities the school provides for students to develop a sense of responsibility and 88% parents agree this is occurring. 
I know our teachers were happy to know the vast majority of parents report their child enjoys the learning they have been engaged in so far at the school (90%) and that parents are very satisfied school providing a great education (88%).  
It was very pleasing to see so many families feel comfortable to approach the school with any concerns (92%), and report the schools respects their family's perspectives (88%).  
There is always more to be done in schools, and I'm grateful for your feedback as it helps inform our work and priorities. 
TRANSITION EVENTS 
The College has been busy with Information Sessions and School Tours constantly sold out! The level of excitement and interest in our new school has been very strong and the feedback we are receiving is overwhelmingly positive.  
Our student representatives constantly receive excellent feedback on their positive nature and how well they wore the College Uniform. 
Many of our local Primary Schools have been invited to visit our new College and the feedback we have received is very positive, including our own students going back to their Primary School with positive stories of the learning and culture we are establishing 
TERM 3 PARENT FORUM 
Each term parents are provided with detailed information that will assist them to best support their child at Greenvale Secondary College. This takes place in regular Parent Forums. 
In Term 3 our Parent Forum is on Thursday 28 July at 6:30pm. 
Parent Forums run each term and have a different focus or set of topics. Topics to be covered in Term 3 include: 
Student Wellbeing

 

Mental Health

 
 Bookings are made via www.eventbrite.com.au/o/greenvale-secondary-college-38054468573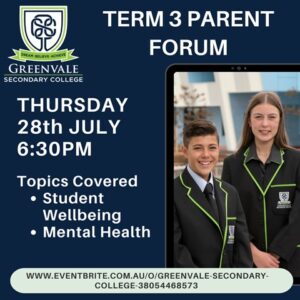 NAPLAN 
This term, we have seen our students in Years 7 complete their NAPLAN tests online for the first time. The process has run very smoothly under the leadership of Mrs Melinda Gall (Assistant Principal) and with support from our excellent ICT Officer, Mr Rakesh Beri as well as many teachers and educational support staff members supervising students.   
Whilst NAPLAN is not the only measure of student success, the value of the NAPLAN results is partly that as a school we can analyse the impact we are having on student learning on a cohort level. This provides us with important feedback on the impact of our teaching and learning program at Greenvale Secondary College. 
SORRY DAY, RECONCILIATION WEEK AND IDAHOBIT DAY 
Our school works hard to create an inclusive environment for all our students, and this was shown with our celebration of IDAHOBIT day and our Sorry Day and Reconciliation week activities. Thank you to the staff and students running activities on these days and encouraging understanding of the issues that many in our community face. 
ATTITUDES TO SCHOOL SURVEY 
This term our students were also completing the Department's Attitude to School Survey. We thank them for taking their time to give feedback on the school; issues that they face and their own wellbeing. It is an example of students having agency within their school. 
HOUSE NAMES 
Our students had the exciting opportunity to demonstrate our school values in the naming and creation of our College House structure. This structure is an essential feature of college life, with family members joining the house of older siblings. The College House Groups are organised for peer support as well as to allow for students to compete in sport, performing arts and other co-curricular activities throughout the year. Students and staff are allocated to house groups across their time at the college. The four houses have been named by students after the Indigenous Seasons and are: 
House Colour

 

House Name

 

House Mascot

 

Red

 

Garrawang

 

(kangaroo apple season) 

Kangaroo

 

Orange

 

Biderap

 

(dry season) 

Butterfly

 

Green

 

Poorneet

 

(tadpole season) 

Frog

 

Blue

 

Waring

 

(wombat season) 

Wombat

 
In conjunction with all house members, each house also has chosen a particular charity to support through regular fundraising events at the college. 
Students work to earn house points across the year through participation in many school events such as whole school sports days, lunchtime activities and other competitive events 
 VALUES AND BEHAVIOUR EXPECTATIONS 
Following student, staff, and parent input, we now have our College Values and Behaviour Expectations document completed. This will now be displayed in all spaces across the College and will now be referred to in daily class activities as well as for rewarding and recognising positive behaviours. Further, this resource will form the basis on our expectations with students, staff and the community.